Tips To Style Boyfriend Jeans
Achieving the boyfriend jeans look has a lot to consider. From the best tops and jackets to perfect shoes and accessories, you name it! And you also need to look feisty or feminine. And if you don't know what items to put together, it's impossible to pull off the boyfriend jeans style. Keep scrolling to learn a few boyfriend jeans style tips to help you achieve that desired look you want.
Casual Boyfriend Jeans Look
If you want to achieve a casual boyfriend jeans look, you need to consider your other items carefully. Once you've got your jeans, you can't just throw a few things together and hope for the best result. Achieving the desired look, simplicity is often best here. Match your jeans with a black tee for a dressed-down feel or a loose white tee with rolled sleeves to echo your rolled hems, or a sloppy-joe top works just as well. For cover-ups, you may try an oversized jacket, perfect for cooler evenings, and doesn't detract from the overall theme. For the footwear, opt for flat shoes, as they are often an excellent choice for the casual boyfriend jeans style.


Feminine Boyfriend Jeans Look
Yes, outfits paired with boyfriend jeans can still have a feminine emphasis. Choose a flower-patterned off-the-shoulder top with gypsy-style ruffles, or a body-hugging halter-neck crop top, to make the most of your figure. Pair your distressed jeans with a griddled white crop top and a low-heeled mule for a touch of coolness or team a classic polka-dot button-through shirt for a hint of Audrey Hepburn. You can add a different twist by wearing a pale blue tailored pair with a white V-neck tee and nude trench coat. Pair with a white converse kicks to complete your fabulous look or pointed flats for a feminine appeal.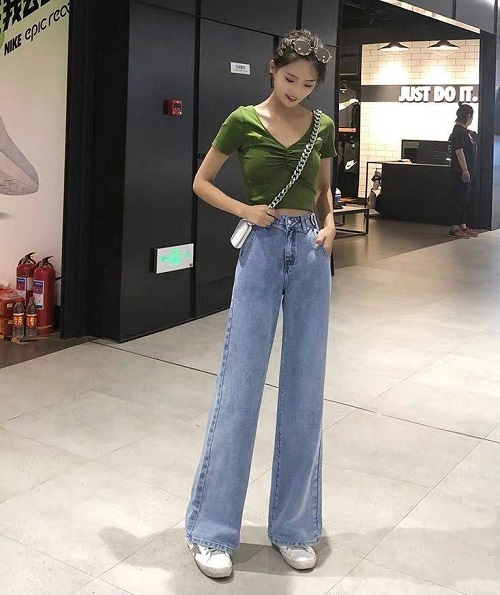 Sophisticated Boyfriend Jeans Look
This may seem to be unsuitable for the sophisticated look, but once paired with the right items, these ripped boyfriend jeans can look the epitome of chic. Try a suave grey tee overlaid with a decorative belt, especially with a three-quarter sleeve loose jacket and heeled gladiator sandals for extra impact. Another outfit that will look sophisticated with these jeans is a black stretch tee with a denim jacket and ankle-length gladiator sandals. A white tee is always a perfect companion to boyfriend jeans. For a cool demeanor, wear a cropped version with scarlet decorative sandals for an extra splash of color. For an elegant look, opt for a long-sleeved design with heeled bronze sandals.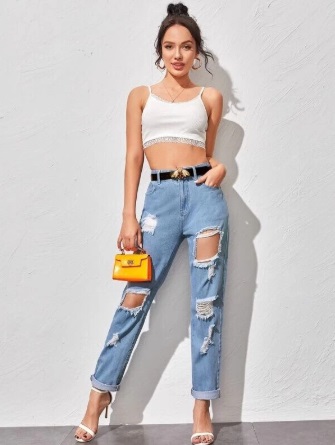 Drop-dead Gorgeous Boyfriend Jeans Look
The drop-dead gorgeous look is the most go-to look. Choose a strapless bustier top with a plunging neckline paired with your boyfriend jeans, or a colorful stretch tee under a white jacket for effortless beauty. Style your boyfriend jeans with a buttoned at the bust long sleeveless denim gilet to expose an alluring glimpse of your toned midriff. Or why not pick a white bikini top, instead, layered with a bold floral print jacket? But the most vital element to achieve that drop-dead gorgeous outfit is to pair them with the best killer heels.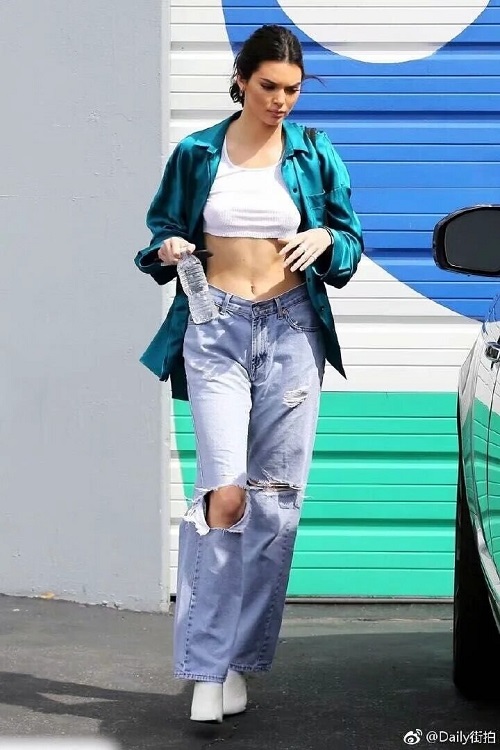 I SAW IT FIRST – Affordable and on-trend fashion pieces to all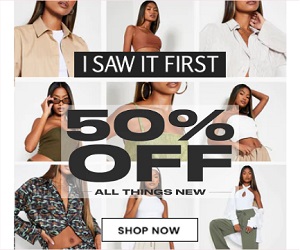 I SAW IT FIRST advocates wellness and advocating body confidence and equality – no matter your size, race, gender or bank balance. From designs made in-house to stocking some incredible brands we offer affordable and on-trend pieces to all. We take centre stage and command attention. We work with some of the biggest players in the game from iconic O Beach to the biggest show in the world, Love Island. Visit isawitfirst.com for latest Women's fashion, clothing & dresses, and avail special discount offered only at their online store page today!
Tags :
ISAWITFIRST