Gorgeous High Heels That You Can Wear Comfortably
Some events or occasions need a pair of gorgeous heels. Women love to go to nightclubs and social gatherings while wearing their best footwear. Right now, you may be curious about how to choose a pair of comfortable heels. They should come from quality materials. For starters, heels are not for everyone. It is best to be aware of what kind of footwear you will find comfortable. We highlighted below the pair of heels that can be perfect for you.
They both feature comfort and style. Choose the best one for you and see if they can finish an impressive fashion statement.
It is best to consider your height in buying footwear. The platforms can be your best friend if you are looking for something that can support your forefoot. You can feel an arch in platform sandals, and it will make you feel comfortable even if you are standing for hours already. The Keefa Platform Sandals have a 70's vibe that you can pair with tights or springtime dresses.
We always want to pick something made of breathable materials because it can comfort us while wearing them. It is best to consider cushioning when purchasing footwear, especially when it will allow you to stay on your feet longer. The material used in Aurora Pumps is leather. It has a trapeze heel for your arches and a trending gold ankle chain.

Sometimes we ask for the materials used in our footwear. It is best to choose one that can absorb shock and weight while you wear them. The Editor Heel is the answer if you are looking for inexpensive heels that have quality. It will finish up your fashion statement because of its chic style. Also, the footwear is perfect for anyone of any height, plus they can wear them every day.
Some women love pointy shoes, and we cannot blame them. It is best to consider the widest part of the footwear because it will hold the pressure while you wear them. The cream Leather Mules has a square toe and a pointed shape. It can finalize your outfit and make a gorgeous fashion statement.

Most women love to look stunning on date nights. They check their wardrobes and try their heels. Some like to look attractive from head to toe. It is best to consider the pumps that will give you comfort and will relax your feet while having a conversation. Also, if you will retouch in a mirror, never forget to check how your feet look. Observe if you are still comfortable in wearing your pumps.
Stilettos will never get out of the picture. Some women appreciate them more than any other footwear. It is best to consider stretching your feet and use creams to use stilettos better. The Lupita Leather Slide Sandals will make your heart flutter and will make the best fashion statement in one of your outfits.
I SAW IT FIRST – Affordable and on-trend fashion pieces to all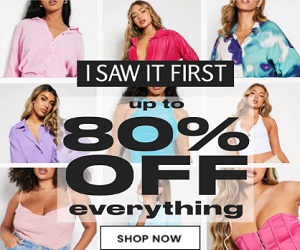 I SAW IT FIRST advocates wellness and advocating body confidence and equality – no matter your size, race, gender or bank balance. From designs made in-house to stocking some incredible brands we offer affordable and on-trend pieces to all. We take centre stage and command attention. We work with some of the biggest players in the game from iconic O Beach to the biggest show in the world, Love Island. Visit isawitfirst.com for latest Women's fashion, clothing & dresses, and avail special discount offered only at their online store page today!
Tags :
ISAWITFIRST